HOW-TO Optimize your S2C: Standardize your request to suppliers
In this mini-serie we will give you some tips on how to optimize your source-to-contract. This first article will explain you how standardization helps improving your S2C-activities.
23. septembre 2021 |
Blog
So when you would like to compare offers, you have to make sure that your request for Information, Quotation or Proposal (RFX) are standardized.
This will result in receiving all information needed to make a good comparison and in a format that enables easy comparison. The first step is to simplify the creation of the request. Templating is a great way to do so, this will create consistency in your RFX's and will save you time.
Several pc tools offer the functionality of using so called building blocks and of course there is always the possibility of implementing dedicated software which helps building/customizing the RFX exactly based on your needs. That way standardized building blocks can be used to easily create a request. And only the specifics that are needed for the request can be added.
Now by digitalizing this whole process you can enable your suppliers to fill in the digital RFX which once being sent back will really ease the way of comparing the different RFX's. In the blink of an eye you will be able to compare suppliers based on topics such as price and delivery time, but also topics such as ESG-score and other legal certificates (think of ISO certifications e.d.).
In a nutshell the simplification and standardization will lead to uniform quality and time saving in your S2C process.
Can't wait for the rest of the blog-series?
Download the whitepaper now and discover more tips & tricks for your Source-To-Contract!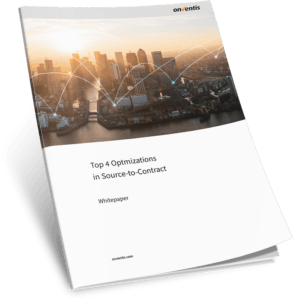 Top 4 Optimizations in Source-to-Contract